Tag Archive:
mike hellbound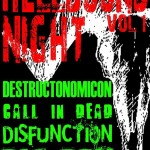 Disfunction to play February 17th with Call In Dead, Destructonomicon, and Pig Pen at The Stranded Sailor in Sanford Florida
DISFUNCTION LINKS
Listen to "Necro-Viral Frenzy"
"More Than Meets The Eye" opening for MISFITS!
"Last Request of 2012" opening for Blitzkid!
Stream Our Albums on BandCamp!