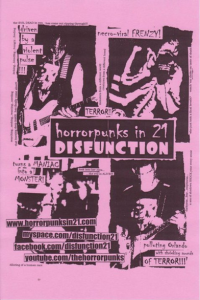 Hailing from sunny Orlando, DISFUNCTION is a horror-punk and necro-viral thrash four-piece that has recently opened for DRI, Doyle, The Misfits, BlitzKid, and Darrow Chemical Company. They have been haunting the regional hardcore punk circuit with their energetic and interactive live shows for the past few years, and they release their own albums on their NECRO 21 label.
Initially morphing from a sponsored skateboarding team into a rudimentary hardcore punk band, DISFUNCTION went through several lineup changes and a slew of informal early demos before vocalist Josh and bassist Seth teamed up with percussionist prodigy Tiffany on drums as a minimalist power trio. Their horror themes and image already firmly in place, DISFUNCTION would soon find their complete sound with the addition of thrasher The Lance on guitar in late 2009 during the week of The Misfits' yearly Orlando show. One short year later, DISFUNCTION would be sharing the stage with their horror-punk heroes and playing in front of a very receptive 800+ crowd. DISFUNCTION opened for MISFITS again in December 2014 before longtime drummer Tiffany left the band, and the space she vacated has now been filled by Jon.
DISFUNCTION is not a dime-a-dozen Misfits tribute band, but the progenitors of their own sub-genre they dub "Necro-Viral Thrash". While drawing from hardcore punk pioneers such as Bad Brains, DRI, and The Germs, DISFUNCTION has worked to add their own original mark to the horror-punk genre. Thrashy riffs with distorted bass and quick fills are peppered with growls, shrieks, and call/response vocals. Most songs are topped off with blazing solos or intricate guitar leads. Their explosive live performances have been known to stun newcomers as much as they engage longtime fans in sweaty spectacle. With their latest recordings, these "Horrorpunks in a 21st Century DISFUNCTION" have shown they learned to capture the spirit of their live shows on an album like lightning in a bottle.
DISFUNCTION is hard at work on their next release, which is anticipated to build on the complexity and direction of 'Necro-Viral Frenzy in 21 Night'. Fans can keep up to date with live shows, videos, merchandise, and new releases at www.Horrorpunksin21.com .